Have you ever wanted to create a successful blog?
Perhaps you've already ventured at creating a blog but it didn't pan out. It seems like creating a successful blog with thousands of readers should be easy to do. After all, it's just about writing some posts, right?
Not quite. Creating a successful blog is doable and rewarding. But like most successful ventures, there's more hard work and knowledge needed to make a blog work than is evident.
There's more to getting readers and subscribers than just making posts. There are several tools and techniques you need to make use of to make your blog stand out.
When you've optimized your blog, you'll be able to get traffic and engagement on your site. You can even convert visitors to paying customers to make a living off your blog.
Let's take a look and the basics of starting a blog and everything you need to have in place to give it the best start possible.
If you already have done a lot of research About blogging and know the basics of blogging or don't have time/patience to read this article word by word then simply go through the steps to create a new blog just by clicking here:
Go to the Steps to Start a New Blog
But If you have time and want to learn everything about starting a successful blog then keep continue reading this blog word by word.
What is a blog?
The blog is the short form of the term Weblog (Web + Log).
A blog is a sort of website where bloggers share their knowledge, experiences, thoughts, ideas with the entire world and try to help or motivate them with their writings.
But Now, Many Businesses and brands are using Blogs to educate & engage their users & grow their business that is known as Business Blogging.
Why Should You Start a Blog??
Due to the Covid pandemic, or before that people are now much more online dependent. Blogging is one of the best and most trusted online earnings sources. So it is an ideal plan to start blogging in 2023. 
Blogging is a long-term business model. To run your blog you need to invest your time, effort, and a little bit of money. After investing, you can run a successful blog.
People are earning 6-7 figures/month from their blogs. If you want to earn money online or from home then starting a blog is one of the best ways to go on.
Advantages of Having a Blog
First and most important is you can generate lots of money from it.
Through your blog content, you can reach your audience. You can share your thoughts, ideas, knowledge experiences.
You can save your free time and make it productive.
It will be easy for you to make connections globally.
You can create your fanbase.
In this article, I will share each and every step you need to start a blog. Simply follow them to start your own successful blog.
Why You Should Not Start A New Blog?
You should not start a blog if you;
don't have the patience to make money
are looking to make money instantly
are looking for quick rich schemes
can't write for hours
don't want to learn & explore new things
If you want to start a blog for any of these reasons then undoubtedly blogging is not for you!
Is it worth starting a blog in 2023?
If you;
want to help others with your blog,
want to be a professional blogger
have good knowledge about a topic
can keep patience for the results (to make money with Blogging)
Then
Yes, It is still Worth Starting a new blog in 2023. Blogging still has huge potential and it is the right time to start your new blog and join the blogging community.
Is Blogging Very Competitive these Days?
The Simple answer is Yes and No!
You may have read/hear it many times that;
blogging is very competitive these days!
blogging has no scope for newbies
Blogging is a scam
Blogging is dead!
But in reality, nothing like this is true. These are all just rumors/myths or the experiences of those people who couldn't understand the meaning of blogging or simply don't have any patience to get real results from blogging.
It will look very competitive if you give a very generic look But when trying to understand things then you'll find only opportunities and potential. You just have to understand the concept of blogging;
A Blog is a platform(or way) to share your experiences, knowledge, thoughts with the world.
So you should choose the topic to blog you have good knowledge about that. It could be your hobby, profession, etc. But most of the newbie bloggers do a mistake here! They start blogging about their hobby about that they don't have anything to say rather than its my hobby… Or they look for the scope of the money that they can make from their blog.
Blogger Income Reports, Case studies influence many people to start blogging. This kind of motivation is for a very short time.
This is the reason many people found blogging is very hard.
When I started my first blog (that you're reading now :-)) It took me more than a year to make my first dollar from my blog. and it took me 1.8 years to get my first payment from Google Adsense. The One Thing that made me successful in blogging is patience.
I didn't quit blogging I learned what I could and worked 16 hours each day. And Today all my hard work pays me. Today,
I have relations with many successful names,
brands, people, experts, editors know me
Generating passive income from this blog.
Running many other blogs
Running an Internet marketing agency
Have worked with brands like Godaddy, 3dcart, many others.
and much more!
Everything happening because I keep patience in the beginning and learning was my focus.
That's why If you have started your blog according to your skills & knowledge then blogging has huge potential for you. As There are many people with the same name, there are many blogs & articles on the same topic. As you have your own unique personality that makes you special & different than others, the same way your blog must have your voice and personality that will help you to come ahead from the crowd.
Some Successful Blog Examples:
Here are some blogs that are making millions of revenue;
HuffingtonPost.com (Now HuffPost.com)
Making Sense Of Cents
Smart Passive Income
Should You Join a Paid Blogging Course to start a blog successfully?
No, You have no need to join a paid course to learn to blog.
Everything is available on the internet for free. Read some good blogs from experts (avoid youtube videos) to learn about blogging.
You'll learn things over time. Any course can't do anything for you. A guide like this will be helpful for you to learn to blog.
But if you still want to join a blogging course then you can join our blogging course which is 100% free for everyone who wants to learn to how to blogging. You'll learn everything for free that you'll learn by paying $$$$ for a blogging course.
How Much does it cost to start a Blog?
You can start a blog without any kind of investment as there are lots of Free Hosting websites available. But if you want to start a successful blog to make money from your blog then you have to invest to maintain and grow your blog. If you follow my methods it will cost around $2-$3/ month, which is quite affordable for anyone.
Once your earning increases from the blog, you can invest more in plugins, themes, any other blogging tools. So you can understand that there is no maximum budget.
I know that this question is moving on your head and you are thinking, why should you invest as you can start a blog for free!
If you start a free blog You have to face so many issues like :
Restricted customization.
No migration or difficult migration procedure.
Difficult to monetize and earn money.
Lack of features
No contact support
Maximum downtime with a slow loading speed
No backup and recovery method
Start a Profitable Blog Step By step
In this article, you're going to learn about creating a self-hosted WordPress site. WordPress is the most user-friendly platform available for people who don't know how to program. It gives you a great degree of control over your content and website appearance.
1. Find the best niche that suits you
A niche refers to the topic of your blog that you'll be focusing on most. You can start both a multi-niche blog as well as a single niche blog. A niche blog is easier for the newbie as one can completely focus on a content topic and can make a strategy for marketing the blog.
You can gain trust and authority more if you focus on one topic. Examples of a few niches – Fashion, Beauty, Health, Food, etc.
2. Grab the perfect Domain Name
The name of your blog is vital as your reader will notice the name first. So your blog's name should represent either your topic or it could be your name or business.
A domain name is an important part before starting a blog because a good domain name will automatically gain trust and authority for your blog. Your domain will represent your brand name so it should be unique, catchy, and easy to memorize.
Bluehost is offering a free domain name for one year with their all hosting plan.
tips to select the perfect domain name for your blog
Keep it Small & Easy – Keep your domain name as brief as you can, don't exceed too much as it's not easy to pronounce a long name, and try to keep your domain name easy as it becomes easier to remember.
Keyword – You can make use of the main keyword in your domain, which will help you in SEO.
Don't Use Digits – You can't use digits in your domain as it's not easy to memorize the digits.
Normally a domain name costs between $7-$15 per year. But As you're a newbie and just starting your blog then I'll tell you how you can get a domain name for free!
Bluehost is offering Free .com domain name for new users with hosting plans.
Click here to get Free Domain + Webhosting with a 70% Off discount on Bluehost.
Which blogging platform should you choose?
Selecting the correct blogging platform plays a vital role in the growth graph of your blog. A great blogging platform provides you complete access to your blog which symbolizes that you can customize, run, or handle your blog the way you want.
If you are willing to start a blog for earning money or to be a professional blogger then you should create an opt for WordPress.
WordPress.org provides you full access to customize, run, or handle your blog efficiently. You can make any sort of blog on WordPress. That's why top most companies like Google, Facebook, Forbes, and top brands are utilizing WordPress for their Blogs.
If you are really willing to write blogs and want to reach your goals then you should begin your blogging with WordPress.
30% of all websites are built on WordPress. It also holds 60% of the Content Management System market. It is so widely used that you'll find plenty of themes and plugins to make your blog look and behave just the way you want.
When you have a WordPress site, you can create and upload your content entirely on your own. You won't have to depend on a developer for every change you want to make. There are great resources online that teach you how to start your own WordPress blog in great detail. Let's take a look at the essentials of starting a blog.
4. Pick out the Best Hosting
There are different types of web hostings that are of a higher price. For a good start, you need pocket-friendly and high-quality web hosting for your blog.
Things You have to Keep in Mind While Choosing the Best Hosting
Maximum uptime
Fast loading speed
24*7 Instant Support
Multiple Server location
Advanced security monitoring
If you are a newbie then I will suggest bluehost.com because it is a reputable hosting provider company.
Grab The 75% discount on BlueHost
Simply Go to Bluehost.com
Then click on Get Started
On the next window, you will get all the Shared hosting plan details.

Choose the best plan based on your requirement.
Now set up your domain: If you want to redeem your free domain then simply type the domain name in the Create new domain fields. But if you want to start with your existing domain simply Enter your existing domain name.
Now you have to create your account.
Fill the Account information details like (Name, country, email, address)
Now select your plan information (You can select time periods for your plans like 12 months/24 month/36months). To get a maximum discount select 36 months. (buy hosting minimum for one year period to save goog amount of money)
From the Package extra field, unselect all.
Now provide your Billing information to complete the payment.
Once you are done check the terms and conditions and click on the submit button.
Hurray! You are done with the First step of your start a blog journey.
Now simply go to your mail inbox for Bluehost login details.
5. Install WordPress on Your Bluehost Hosting
login to your Bluehost Hosting admin panel by using the login details that you get in your mails.
Then Install WordPress for your Blog by providing Blog name, Username, Password, and etc.
Once you create the blog and get the WordPress login details for your blog like this:
login to your Blog:
https:yourblog.com/wp-admin/
(enter your username and password to login if required by visiting the link)

visit your blog:
https:yourblog.com



6. Choose an Attention-Grabbing Theme and Perfectly Customize it
A brand new WordPress won't look very appealing. This is because it doesn't have any content on it and because it's using a default theme and setup
In blogging, the design of the blog is important because if you don't use a good design, then for sure you are losing a lot of traffic and audience. Perfect design helps you to construct trust with your audience. In WordPress, there are a lot of free themes that are readily available.
But If you have budget then you should buy a premium theme from a reputable source that will help you to manage and grow your blog easily and professionally.
Follow these steps: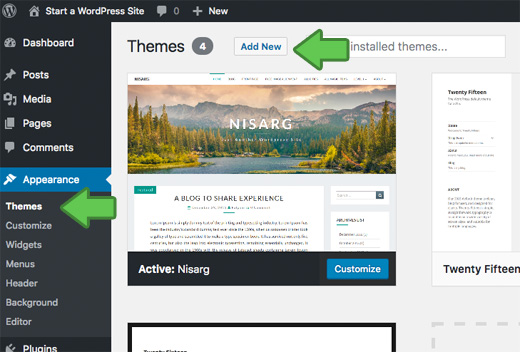 Go to Appearance > Themes tab in left hand side.
Then Click on the Add New button (at top).
Then Search Astra in the WordPress Theme directory search. (right hand side)
click on the Install Button. then Activate the theme.
you successfully downloaded and activated the theme of your choice in your blog.
Now, to design your theme, then press Appearance ➡ Customize, and now you have the access to design your theme according to your preferences.
Recommended Themes:
MyThemeShop | Studiopress Themes | Thrive Themes
7. Install Essential Plugins
One of the best things about working with WordPress is that you can add almost any functionality with plugins.
You can create your own membership site platform or boost SEO with plugins. You can integrate email marketing services and social media on your site. You can also add a contact form. Use free and paid plugins to get added functionalities to make your blog do anything you want.
Before making your blog live, you need to install some WordPress plugins :
WPForms – WPForms is an easy to use WordPress plugin that permits you to drag and drop contact form to any page of your blog. It let readers get in touch with you directly and even allows other bloggers to collaborate with you easily.
UpdraftPlus – It's a backup plugin that will save your hard work daily and will give all the backups needed for your blog.
Imagify – MaxCDN loads images and other elements faster in your blog besides WP Rocket.
WP Rocket – WP Rocket caches the pages, reduces the size of a file and loads a blog faster as a faster website holds a good rank in Google and provides a great experience to the readers.
RankMath: RankMath Plugin is one of the most important plugins that you need to add SEO features to your WordPress blog.
Monsterinsights – It's a free plugin that allows checking all the relevant analytics data directly from WordPress. It even finds out who is visiting your site and for how long along with displays your most popular blog posts.
8. Make your first blog post
Your next step is to create your first blog post. This is the content that will appear on your website and that users will read. All you have to do is find Posts on the left-hand menu and click on Add New to create a new post.

Remember to add a 'Featured Image' to your post and to create 'Tags' and 'Categories'. Using tags and categories makes it possible to organize your content and to present it under different topics.
Some tips that might help you in order to make your first post look stunning:
Before finding an appropriate topic for your post, do some keyword research for your niche, where you will find a suitable one that is quite easy to rank.
Quote a unique title for your blog post.
Add some supporting pictures for your article to give a better understanding to the readers. Describe your article in detail so that your audience loves your article.
Optimize your content.
Give more preferences to the words like I and You to connect with your audience and avoid copyright images from google
Features that launch your blog toward success
While you've had a look at everything you need to do to start your blog, you've only covered the beginning. Let's explore the important features you need to incorporate into your blog to make it grow.
Analytics
The saying 'What can't be measured, can't be managed' holds true for blogs as well. Adding Google Analytics is one of the most helpful things you can do to make sure that your website is off to a successful start. Incorporating analytics gives you many insights:
The number of readers or visitors on your site
The average time spent on your blog
The pages and posts that get the most views, so you can optimize them
User demographic information
Google Analytics can provide you with even more information on your blog. You can add analytics to your blog either manually or by using plugins. Using analytics from the beginning lets you track your blog's growth and tells you where you need to improve.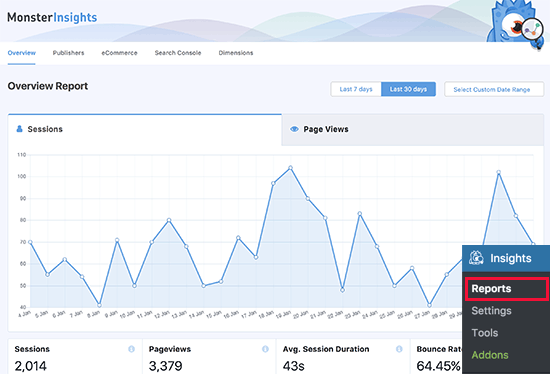 Keyword Research
Doing keyword research gives you actionable insights that help impact the SEO of your site with relevant content.
Doing keyword research early on lets you understand what your users are looking for and what their intent is. Finding the best keywords to write about gives you the power to create relevant and helpful content.
This creates value for visitors as your content will be exactly what they are looking for. Visitors spend more time on your blog and this has a positive impact on SEO.
Social media marketing
Billions of people are active on social media every day. It's important to make use of social media platforms to reach out to an audience that is looking for engaging content.
You can leverage social media by creating pages and profiles for your blog. It's a space where you can share your posts to groups that are interested in your domain. Use visual media like images and videos along with written content.
Working on social media marketing from the start will help you leverage social media from the launch date.
It takes time to build your list of followers and your presence online. Create social media profiles and content right away and engage with your audience. This will help you drive traffic to your blog and create conversions.
Regular High-Quality Content
Successful blogs are ones that have good quality content posted on a regular basis. Your blog won't take off if you post intermittently or are waiting for inspiration to make content.
Setting up a content calendar and planning your content in advance is important for your blog's growth. This shows your readers that they can rely on you for helpful information. It also impacts SEO as search engines reward blogs that keep their content fresh.
Creating blog content on a consistent basis is the foundation of any successful blog. Create a content plan and commit to posting content at least once a week for your readers.
SEO Optimization
Optimizing your blog for SEO should not be an afterthought. Planning for SEO even before you begin designing your blog will prevent having to make major changes to your site later. Your keyword research, page structuring, navigation, and more all have an impact on SEO.
It can be challenging to add SEO to your blog once it's up and running. It takes a lot of time, effort, and resources to make navigational and structural changes once your blog is live. You also risk losing out on traffic by not using SEO strategies early on.
Building an email list
Every online business needs to have an email marketing strategy in place. Email marketing remains the most powerful way to get conversions.
Make sure that you are signed up with an email marketing service provider from the start. Add plugins to integrate email marketing with your blog.
Also add optin forms, popups, and calls to action to get people to subscribe to you. It takes a lot of time and effort to build an email list. Begin working on it right from the start to build an email audience.
Best Ways to Make Money From Your Blog
Some of the ways to make money from a blog as follows:-
Google AdSense
You can join either Google AdSense or any other ad network and can place small advertisements on your blog to earn money. To make a good amount of money with Google AdSense or other ad-network you need to have a large amount of traffic on your blog.
Sponsored Blog Posts
Companies will pay you a good amount of money to post their content on your blog.
Marketing
By promoting other companies' products on your blog you can affiliate marketing and can earn money through it.
Courses
You can offer online courses on your blog to make money.
Selling Ad Space
You can sell ad space to advertisers and can charge money for an ad if your blog holds a good amount of traffic, popularity.
Providing Services
You can provide services such as content writing, design, photography, etc to make money from your blog.
EBooks
You can write your eBooks and sell them to the audience and can earn out of it.
Software
You can create some software and can sell it on your blog to make money out of it.
Get your blog right the first time
Making a successful blog is a challenging and rewarding experience. It's important to get started on the right foot so that you save time and resources.
There are many ways to optimize your blog so that there are no significant setbacks. You can add visuals like images and videos or incorporate podcasts. It's important to engage with customers on social media by responding to comments.
You can also use giveaway contests to drive up traffic and engagements. Making your blog a success is possible with dedication and hard work. By using the ideas given here, you'll be able to boost it from the start.
Final Words;
You can easily start a blog after following the steps that are mentioned above. You need to be consistent regarding your blogging to grow your blog. If you keep on writing and publishing your blogs daily then it will become an easy way to grow your blog and earn money out of it.
At the beginning of blogging, you need to focus on learning rather than making money. Keep patience while doing blogging as it consumes time to give efficient results. Build good relationships with other bloggers, improve your writing skill, and use different techniques. All these will lead you towards success in blogging.