Your customer's journey starts from being aware of your brand to purchasing a product. The journey can continue even further through customer feedback and repeat purchases.
Today, a significant amount of the customer's journey happens online. They interact with your business at several online points. Their journey can start when they see your ad or if a keyword search brings up your content. There are multiple platforms and instances where you interact with customers.
A customer's journey can take them to your website landing page, review sites, emails, and chat support. These are opportunities for your brand leverage these touchpoints.
The key to creating great customer experience is to make each touchpoint a positive and memorable encounter. Since many of these touchpoints are online, you'll depend on content marketing to shape them into positive experiences.
Content marketing focuses on creating high-quality and engaging content. By creating and deploying helpful content on different channels, you'll be able to create value. Users appreciate and go back to high-quality sources. Let's look at different ways you can build content to boost customer success.
Create a Business Blog
Blogging brings more traffic to your site. By creating a blog, you provide your audience with fresh and informative content.
You can get ideas for blog topics by searching through different platforms to find out your customers' pain points. Build your content around people's questions and problems. By answering their questions with helpful information you'll bring traffic to your site, boost SEO, and help customers.
Blogging is a powerful way to help your customers get updated information about the industry. Your posts can also showcase how to use your products and help them to meet their business goals.
You can enhance your blog by following certain best practices:
Post blog content regularly. Daily content builds the most traffic
Create long-form content with more than 1000 words. Long-form content has more detail and gets more shares
Do keyword research and use them to boost SEO
Leverage your blog to generate social media engagement.
Create evergreen content that gets traffic and provides value over time
There are several formats or types of content that are appealing to users. When creating blogs, consider mixing it up by trying different content formats.
Infographics
Infographics condense data that might otherwise be dull or hard to understand. An infographic uses graphics to depict statistics, numbers, and facts in a simple and informative manner. They are highly engaging and provide a snapshot of essential data to customers.
How-To Articles
One of the most popular content types online is 'how-to' articles. They create greater engagement and social media shares. How-to articles are popular because they help people solve problems. They break down solutions into small actionable steps and are easy to follow by anyone.
You can add how-to articles as a key content type on your blog. You'll help find newer customers and also provide existing ones with helpful material.
Instructions and Manuals
A useful type of content you can create is manuals or instructions. Very often users hesitate to make purchases because they are concerned they won't know how your product works. You can create free manuals and instructions in written and video formats.
In-depth information about products and services makes users more comfortable. You can also create exclusivity using a membership site platform. You can allow access to only your users to get information from manuals and instructions. It's a resource-base for customers and can support your customer service department.
EBooks, White Papers, and Case Studies
Creating content in the form of eBooks, case studies, and white papers works well for B2B companies. You can create in-depth reports that are relevant to your customers. Doing so can create an appreciation for the knowledge you impart. You'll get more traffic, links and social engagement.
You'll also give customers a source of information they can rely on, building trust.
Interactive Content
Another way to improve customer experience via content is to add interactive content to your site. Interactive content engages users and is more interesting. You can explain complex and dull content in a way that makes it easy to understand.
There are different types of interactive content. You can use polls to ask users about their opinions. This makes them feel heard and that they are participating in your brand.
It's also possible to create interactive surveys, which are more compelling than static ones. Getting surveys, feedback, and poll answers is important in influencing customer experience. It's not possible to improve a customer's journey unless you understand their feelings about the interactions.
You can also use forms to build feedback forms. Forms can be interactive, and they can be applied in many ways; such as to build content forms, registration forms, and more.
FAQ page
Having an FAQ page makes it convenient for users to get answers to questions they have. By anticipating customers' queries, you anticipate their needs. Content like FAQ pages removes the need to contact customer support for minor problems. It also showcases your brand's proactivity.
There are many reasons why you need to create great content on your site. Work on providing valuable information and creating value. By helping users with practical information, your business improves customer experience. Let's look at other ways content marketing can impact the customer journey.
Optimize Your Landing Page
Your website landing page is a significant customer touchpoint. Visitors often make decisions in seconds about whether your website is useful or not.
A poorly built landing page can be frustrating. It's important to create good navigation to make it easy to find relevant information. You can also improve customer experience by building your site on the principle of UX and UI.
Make sure that you use impactful headlines that tell users what your site is about. Also, create content that reflects benefits rather than features. Content marketing can help improve your business's landing page and make it attractive.
Add Popups
Conversion optimization tools can help you build your business and boost customer experience. A conversion tool such as an exit-intent popup captures a visitor's email address before they leave.
It gives you a chance to make an offer to customers. You can get users to subscribe or submit their email by presenting them with a discount. You can also create a lead magnet so that they get something for free by giving you their email.
Users will feel good about getting a great deal and will remember it as a positive experience. At the same time, you've built your email list and can use email marketing campaigns to boost their customer experience with content.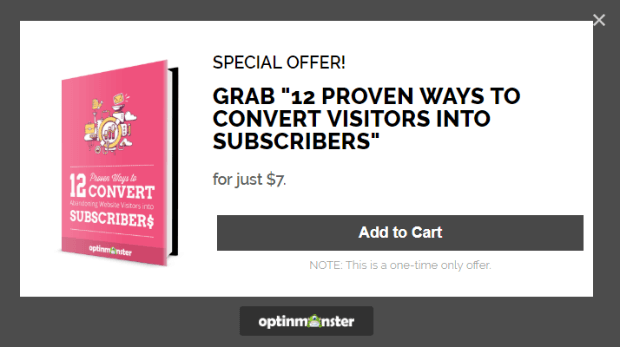 Use Email Marketing
Your email exchange with customers is a major point of contact that you can leverage. Email marketing has the highest conversion rates of all digital marketing tools. You can create significant customer interactions here by sending email blasts.
A great way to build better customer experience is to segment your email list according to behavior and interest. With segmentation and personalization, you can create relevant content for different customers. In this way, you won't be treating your customers as a homogenous group.
Email marketing is also a valuable tool for lead nurturing. You can continue to build a richer customer relationship with your existing customers. Create newsletters, share videos, offer demos and other content to create value through emails.
Leverage Social Media
Customers often reach out to businesses via social media. It's convenient and users feel like if they reach out on a public platform, a business is more likely to respond.
To create good customer experience on social media, it's important to leverage content. Here are different ways to do so:
Create helpful content that's non-promotional
Post content daily
Use a conversational tone of voice
Add interactive content
Respond to comments and posts
Create helpful pre-set messages for users who message your page
Make sure that you have a dedicated person who can take care of messages on social media. You can also use customer experience tools to carry out social listening and sentiment analysis.
A customer experience tool can monitor brand mentions on social media platforms. They can also get data from review sites, blogs, and forums. This is a great way to track what's happening across multiple channels.
Offer Personalized Content
You can improve customer experience by implementing CRM for businesses. CRM can help gather data from different members of your organization, like your sales and support staff.
You can build a 360-degree view of your customer that helps you understand them. In this way, you can integrate CRM and email marketing to create personalization in email campaigns.
Greater personalization shows customers that you're paying individual attention to them. They feel more connected to your business and are more likely to read your marketing communication. You're building customer experience by personalizing your offerings and giving better support.
Build Better Customer Experience Using Content
Content marketing underpins customer experience in many ways. It aims to personalize content and boost SEO. It can also help you provide information that users want.
Helpful information is the currency for brand loyalty and strong relationships today. By using the content marketing ideas given here, you'll be able to improve customer experience.